100% Natural Lash Growth Mask (Twin Pack)
Longer & Thicker With No Nasties
Regular price
$49.99 AUD
Sale price
$29.99 AUD
Unit price
per
Sale
Sold out
"The first and only natural lash mask, that uses ingredients without harsh chemicals & filled with homeopathic frequency for supported lash growth." - Marcha V.
This is a Twin Pack - 2 months of use*
Many eyelash growth serums on the market contain synthetic ingredients that can be harsh and irritating to the delicate skin around the eyes. These ingredients can cause redness, dryness, and even lash loss if used improperly or for extended periods of time.
In contrast, our 100% natural eyelash growth mask is formulated with only the safest and most gentle ingredients. Our serum is free from synthetic chemicals, artificial fragrances, and other potentially harmful substances. This makes it safe for daily use, even for those with sensitive eyes.
🌷 

Promotes healthy lash growth

🍄 

Contains only natural ingredients

🍓 

Safe for daily use

🍥 

Results in as little as 4-6 weeks

🍧 

No synthetic chemicals, artificial fragrances, or other potentially harmful substances

🧁  

Safe for those with sensitive eyes

🎀 

Packed with nourishing vitamins, minerals, and botanical extracts
🔊  Enhanced with Homeopathic Frequency for added lash growth support
So, if you want to achieve longer, fuller, and healthier lashes without exposing yourself to potentially harmful chemicals, the Witchy Lashes 100% natural eyelash growth mask is the perfect solution. Try it today and experience the benefits of nature-based beauty!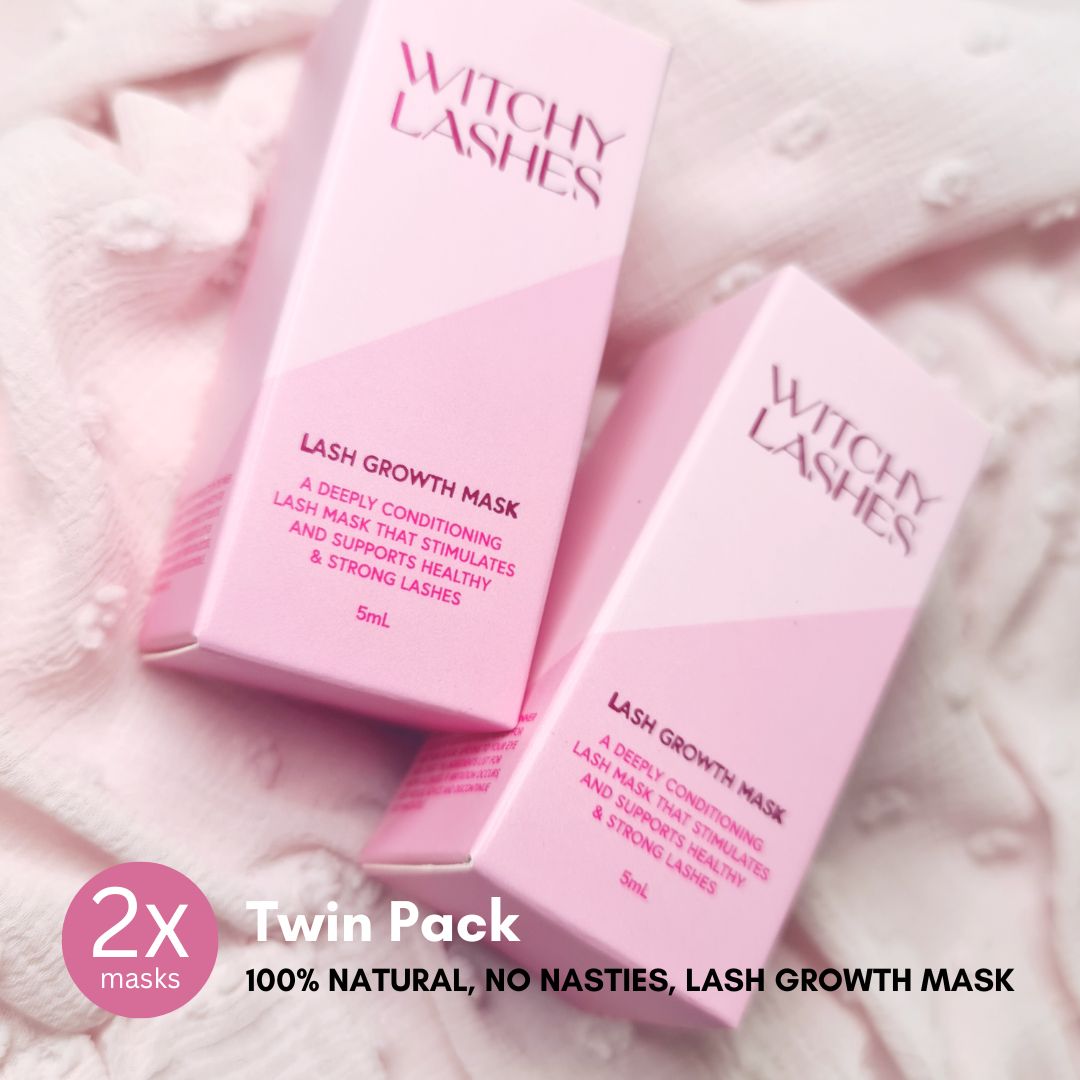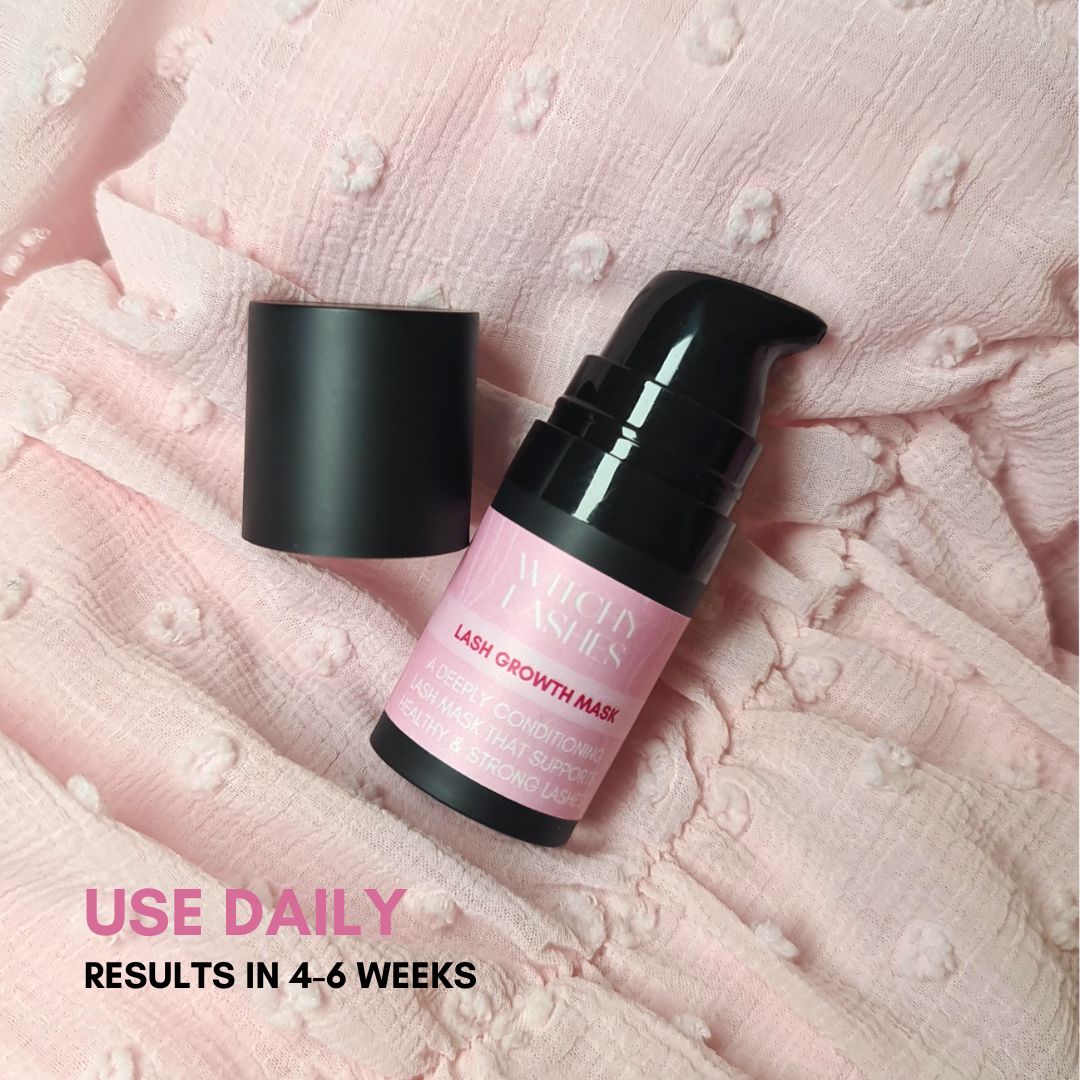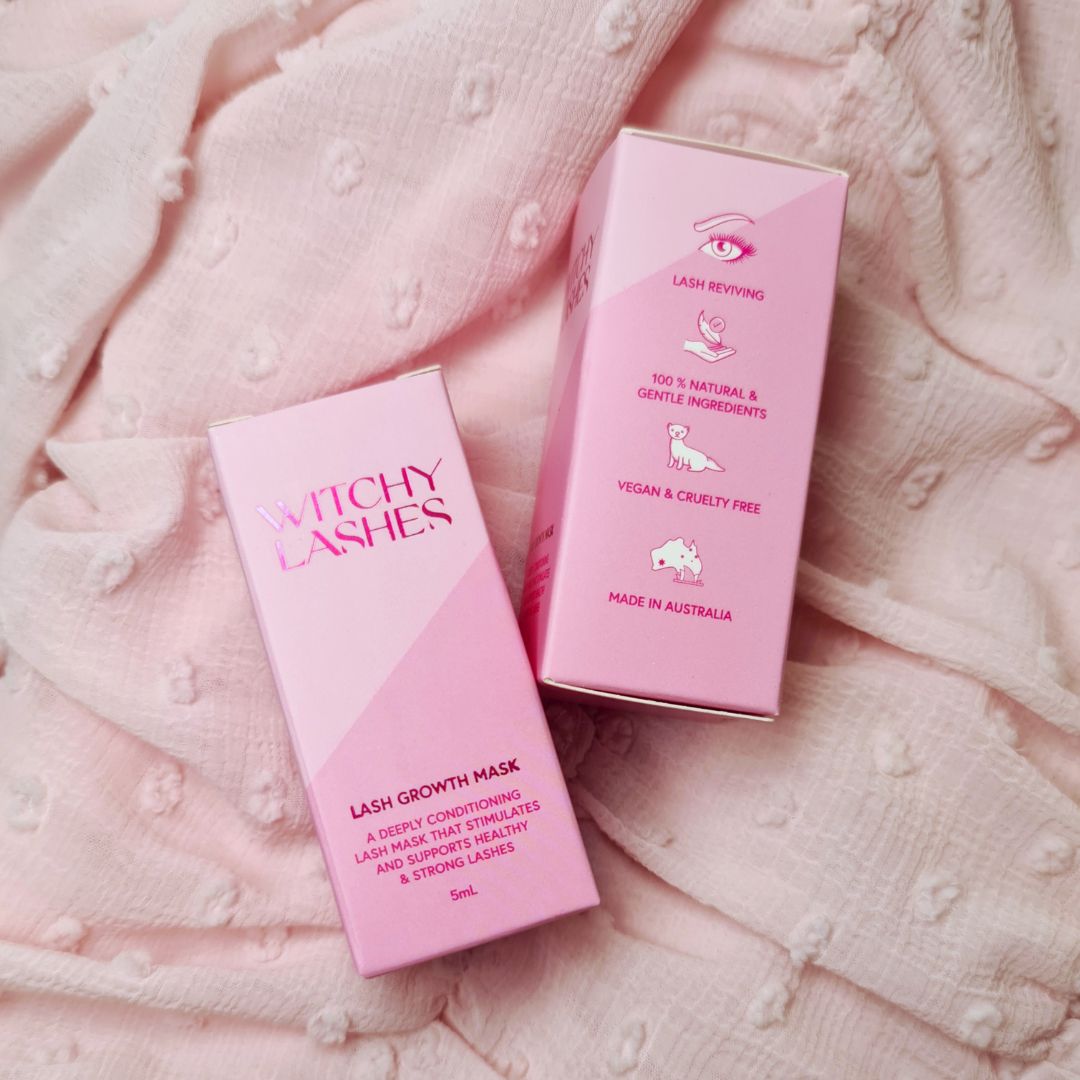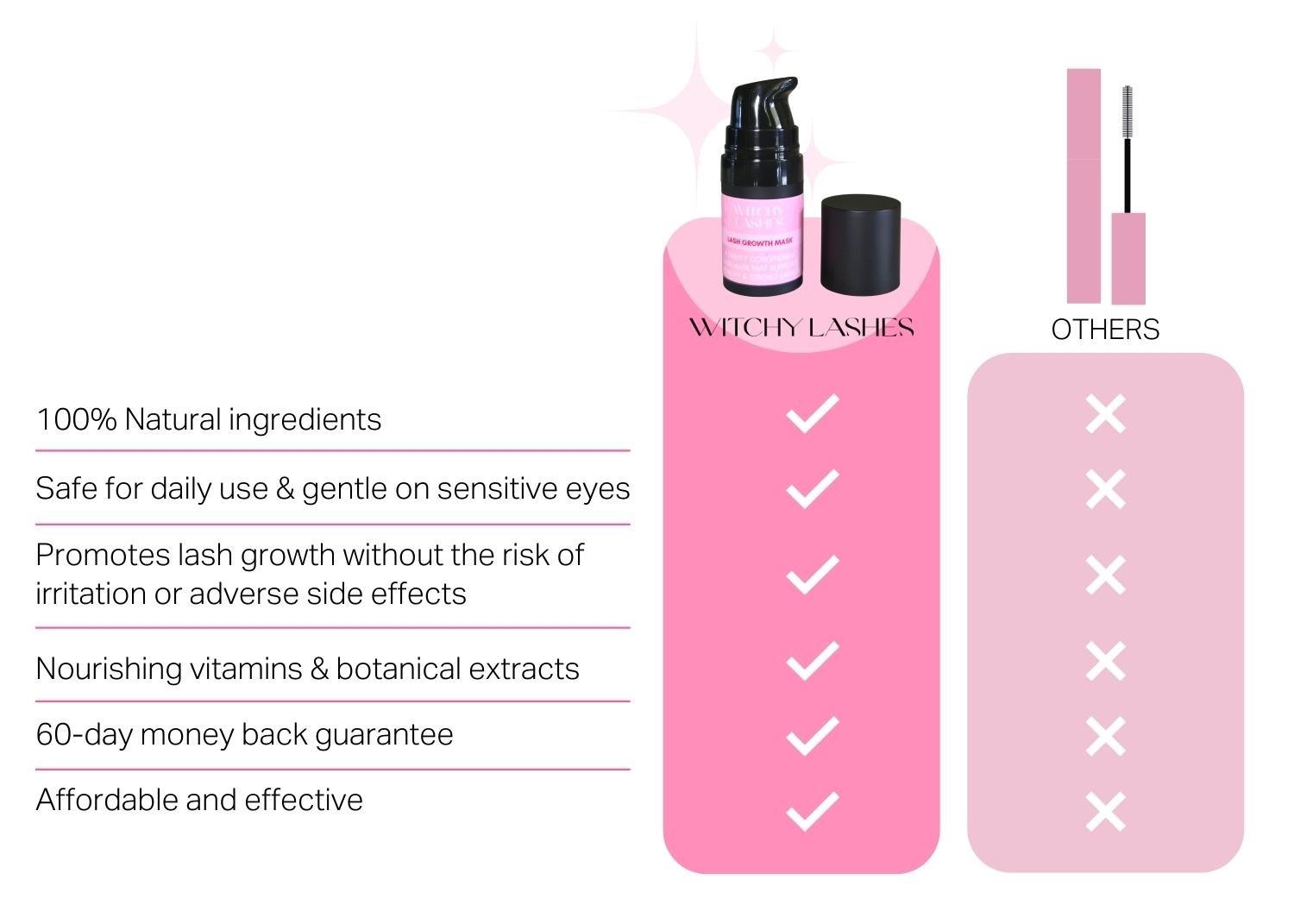 Why Witchy Lashes?
Unlike other lash serums on the market, our Lash Growth Mask is the only product that is 100% naturally formulated with ingredients that are packed with nutrients and high performing botanicals & frequency. Nourishing your lashes for longer and stronger growth.
Longer Lashes in Just 2-7 Weeks!
Start

Start your journey to longer lashes!

Keep Going!

Apply the mask daily. You might wake up soon with a gorgeous lash boost!

Longer & Fuller

Lashes never looked this good!

You're in love with your new long & thick lashes, and there's no turning back.

Continue Use

Continue to use until week 12 to experience the full effect of this gorgeous Natural Lash Growth Mask.
What's in it?
Pumpkin Seed

Pumpkins are not only perfectly transformed into Carriages, they're also perfect for transforming lashes!


A hair growth powerhouse, rich in unsaturated fatty acids, especially oleic and linoleic acid, as well as vitamin E.

Purple Blueberry Seed Oil

The King of the Blueberry seed oils, this oil is easily absorbed by the skin, creating a well nourished environment full of proanthocyanidins, which helps your lashes grow thick and healthy.

Vitamin E Oil (Natural)

Derived from natural ingredients, this Vitamin E oil boosts lash growth, promoting longer and fuller eyelashes! Vitamin E may also slow down the aging process, moisturize and strengthen the eyelashes and improve the overall health of the skin.

Carrier Oils Good For The Skin

As part of a gentle & nourishing formula we have chosen carier oils such as Organic Olive and Castor to create a nutrient dense and skin happy base that'll give you skin benefits too!

Homeopathic Frequency

Frequency is a healing modality of the future, and we have paired this sensational healing tool with our lash growth mask in an effort to accelerate your results. This bottle is packed full of pure frequency to assist you on your lash growth journey!