Natural Magnetic 5 Set Bundle
Natural Lashes for Everyday Wear
Regular price
$124.99 AUD
Sale price
$78.99 AUD
Unit price
per
Sale
Sold out
Get effortlessly beautiful lashes in minutes, without harming your natural lashes. 
Make lash application a delight with Witchy Lashes' realistic magnetic eyelashes. With magnets that are 50% smaller and more powerful for that extra strong hold that lasts over 16 hours! 
Transform your day-to-day style with our pre-selected Natural Magnetic Lashes. This bundle is perfect for exploring styles that lightly accentuate your eyes & create a polished look.

These carefully curated lashes are suitable for:
- Daily wear for any occasion, you'll feel comfy and stylish
- Small & Medium Eyes, some of these fit a little shorter on large eyes but can still be enjoyed with some mascara to blend inner corners (this is so comfy)
- Downturned Eyes, these styles lift & open your eyes
- Ladies with no natural lashes, looking & feeling normal without lashes can be hard, this bundle is amazing for creating a natural look that you'll love wearing every day.
Bec
A curly lash with minimal volume, this lash is very similar to getting a lash lift. It is fantastic for those occasions where you want some extra lash definition without looking "extra". Beautiful daywear lash. Note that if your lashes are straight, you will need to curl them (add a link here to eye prep kit *don't include this text) to blend with this lash (glasses friendly for all).
Rhonda
Petite & pretty. This lash is amazing for creating a polished & ladylike look without over-accentuating. The full volume and curl, coupled with the shorter length, create a defined look. While the flared end gives you that classic lady-like feel. This is a must-have in your collection if you love wearing lashes that look natural (glasses-friendly for all).
Emily
Are you wearing lashes? This is one of our incognito pairs. You'll look effortlessly polished and feel comfy all day long without giving away your lash secrets. The rounded shape creates an awake look, perfect for instantly transforming a tired eye (glasses friendly for all).
Laura
Our most popular daytime lash offers a good amount of length and lift! Her curly flared ends give a ladylike look that you can enjoy every day. This is the ultimate lash for both comfort and style. Transform your look with Laura & you'll feel instantly glammed (glasses-friendly for some).

Nita
Why not try one of our comfort lashes for free? Nita has a gorgeous curl and can easily transform your lashes for a flirty daytime look. This lash has that classic lash look with a longer end, creating a playful feel. This is a shorter lash that you place on the outer corner of your eyes, you can choose to blend it with some liner & mascara if you have fair skin or light-colored hair. It is wonderfully comfortable (glasses-friendly for some).
In this set, you'll receive 5 sets of lashes that give you a lifted look and expand your lash collection. Discover new ways to accentuate your eyes while enjoying the easy application that you've already come to love.
❓  See Frequently Asked Questions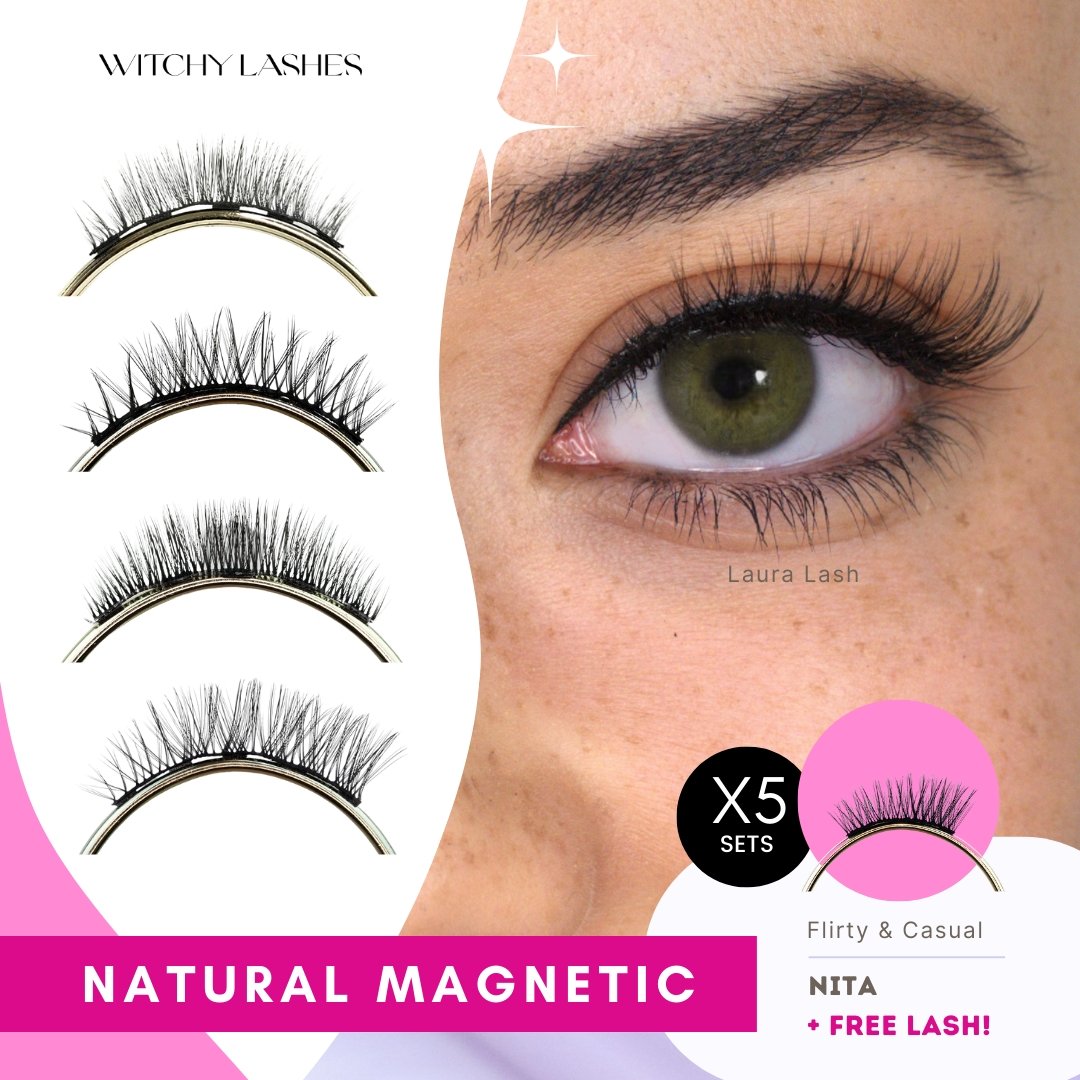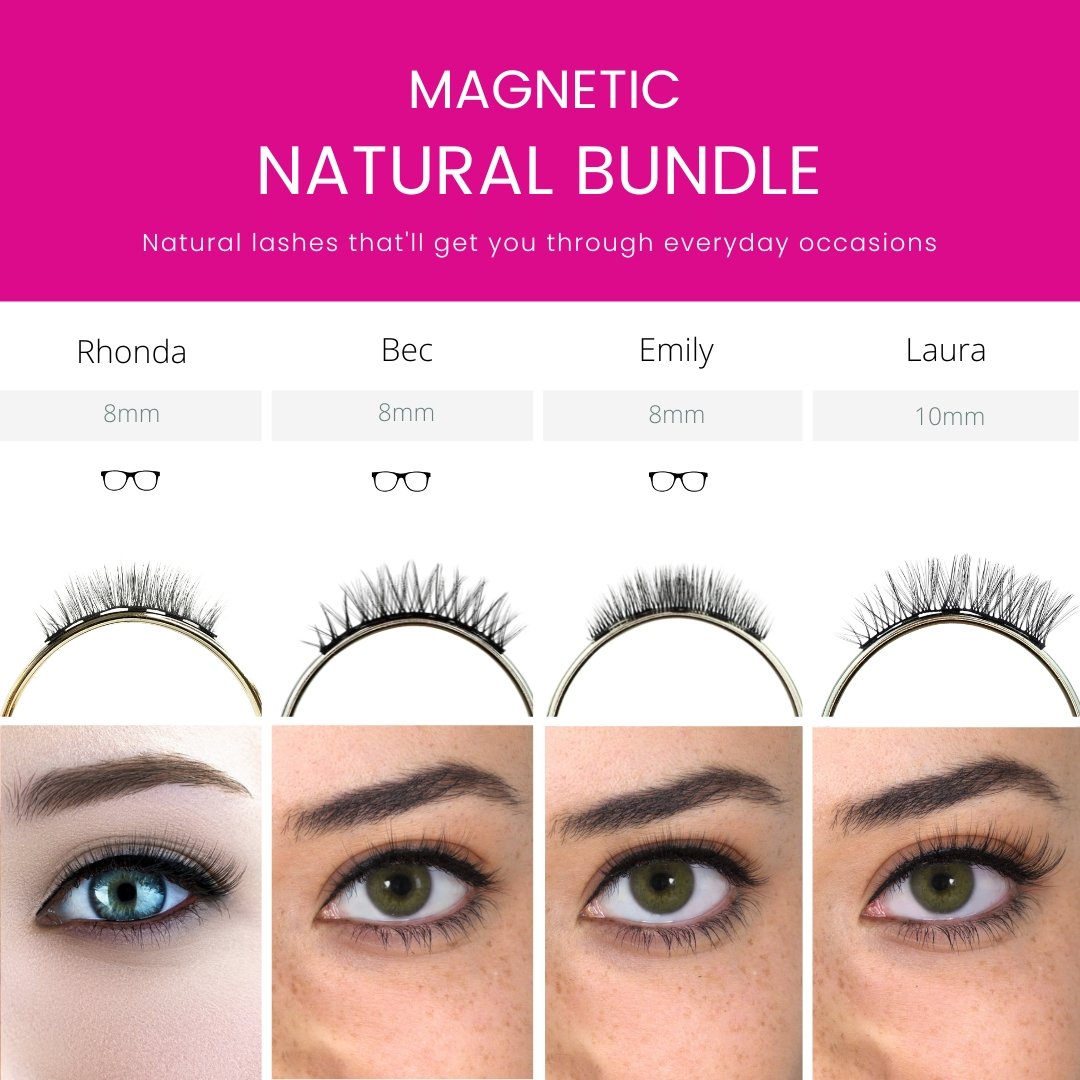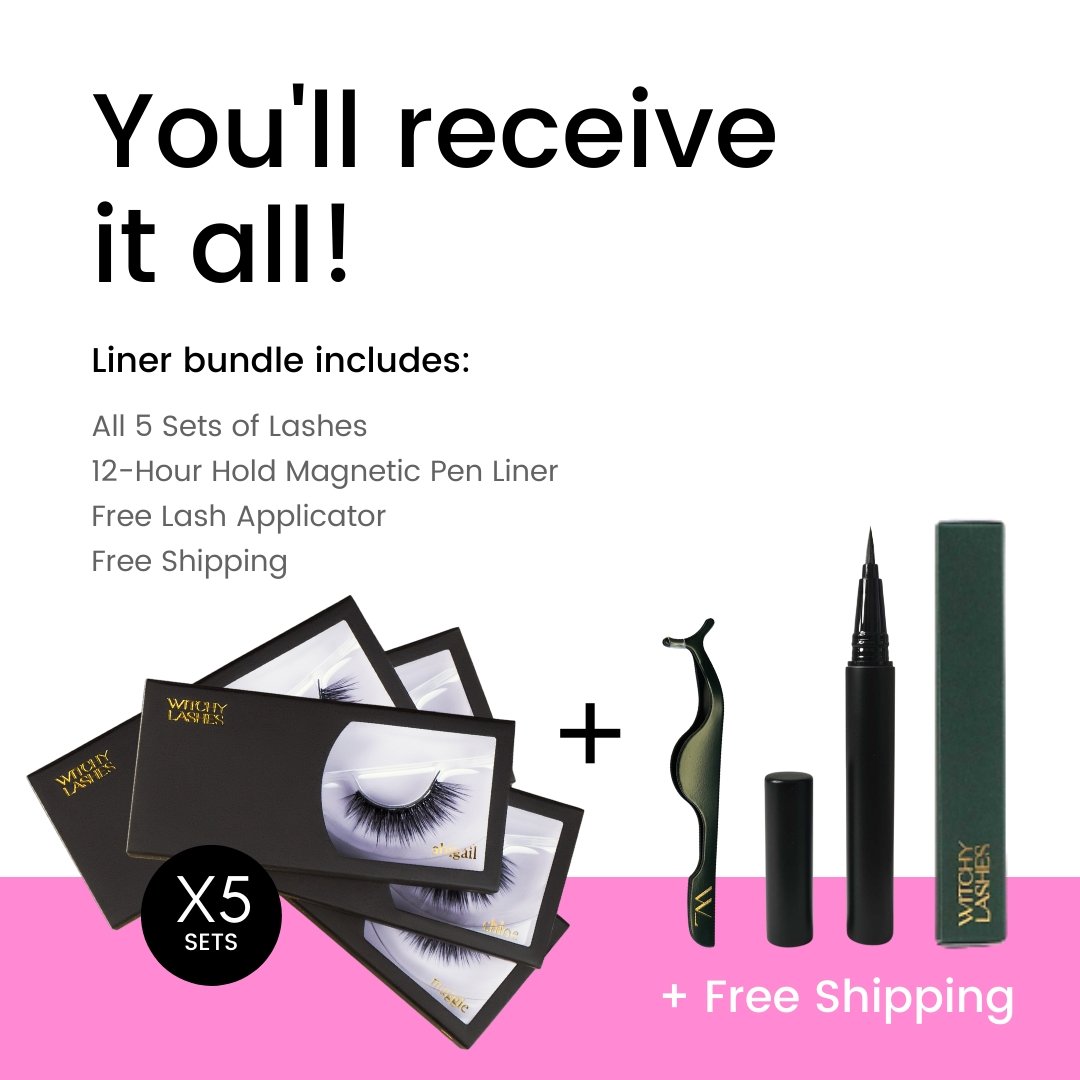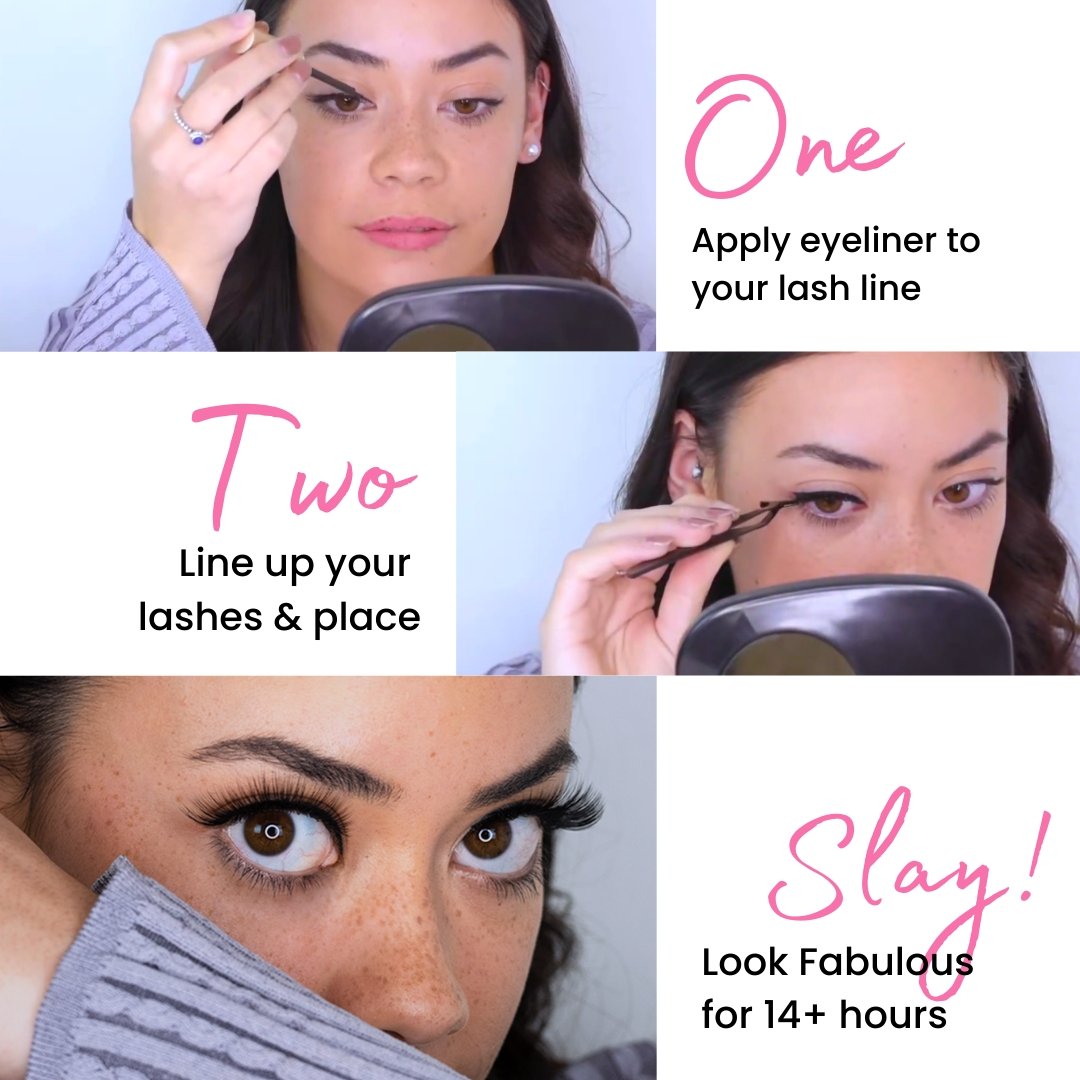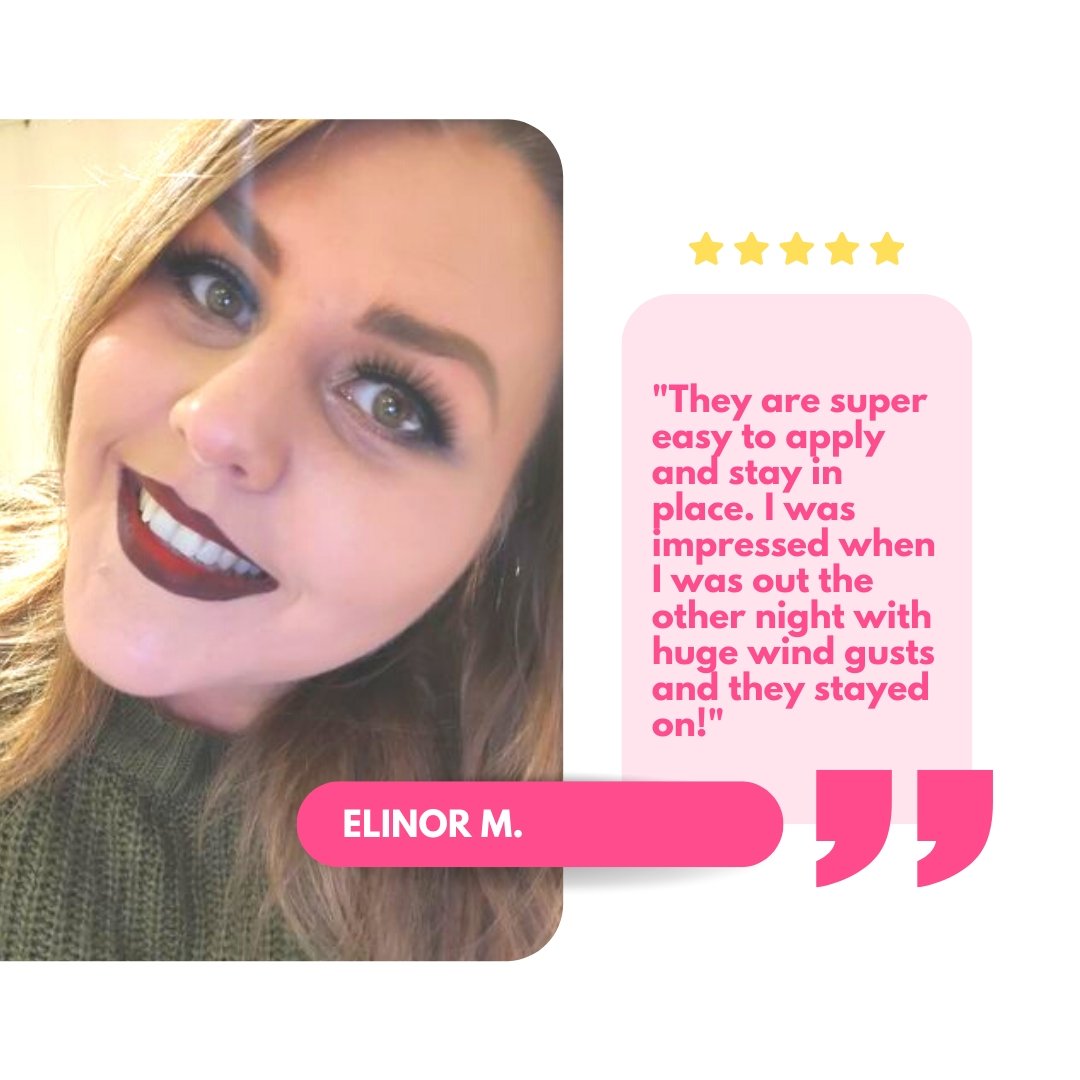 Frequently Asked Questions
Hey Gorgeous! We've put together a list of our most commonly asked questions for you. Check them out below, if you can't find the answer you are looking for, you can get in touch at the end of this page.